TubeTracker is a website that allows you to access and explore the timetables used on the London Underground, with real-time information to go along with it! Think of it as the LU version of Realtime Trains.
Quick disclaimer: TubeTracker is meant for enthusiast use, please do not use it for journey planning or for any operational or safety uses. Many things go wrong on the Underground, which means trains will frequently divert away from the normal timetable in the best interests of the service. The timetables are available for information purposes only, and cannot be guaranteed to be accurate, so please use at your own risk. TubeTracker is not affiliated with TfL.
With that said, I do keep TubeTracker's timetables updated for most engineering works or special events, so the information will be as up-to-date as possible - moreso than on most other enthusiast websites. TubeTracker also tries to detect and warn you about closed stations, short trips, diversions, and unscheduled calls and passes; with more improvements coming in the future.
One novel feature of TubeTracker that I've not seen being done elsewhere is the ability to track specific train units - seeing where they are now, what service they're operating, and what they've done earlier in the day or on previous days. This is very useful for enthusiasts like myself who are trying to tick off a ride on every unit, as it makes finding them a much easier task.
Most real-time information on TubeTracker is provided by intertube, a project by eta. intertube is powered by TfL's TrackerNet, cleaning up a lot of the data, before presenting it in a much more straightforward way through intertube's website and API. eta's intertube API is available to others, so if you've got an idea of your own, send her a message.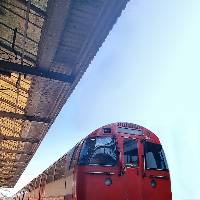 Accessing TubeTracker
Unfortunately due to various personal and work-related reasons, access to TubeTracker is currently on an invite-only basis.